---
In Washington, D.C. Presenting Holography
& Laser Arts and Sciences @ The Smithsonian.
---



BIO:

I saw my first laser hologram in 1968, attended my first holography exhibit in 1976, began my own laser & holography studio in 1983, and started my world-famous holography web site in 1993. I began as a kid, and after an entire lifetime, there is plenty more to say. But for now I'll just say that sooner or later in your own journey in holography, no matter where you are in the world, you will eventually come across "Frank DeFreitas".

I am one of the very few people on Earth to have his or her name on the surface of another heavenly body: Titan, the great moon of Saturn.

I have designed and built my own lasers, optical equipment, and have formulated my own processing chemistry and production methods. My work is truly, and literally, my own.

I have a technical education. My background is in printing technologies, and I am a graduate of the Philadelphia School of Printing and Advertising (with a focus on typography, typesetting and graphic design / prepress). Never underestimate the power of print, whether on paper or online. Print is the most influencial and powerful human-created force in the world, and it is where I have always wanted to be. Not surprisingly, it is where I am.


My trinity of light-based
interests and experimentation:




In 2014, I am now 58 years old and I have been married for 37 years. My wife and I have 3 grown daughters, all involved in science and medicine. I have had my private studio and reference library / exhibition room in my downtown historic Allentown, Pa home for 31 years. People travel from around the world to visit, to learn, or to just say hello (please call first).

I highly respect the developmental years of lasers and holography, and I am an advocate for keeping the early practices, equipment, techniques and print media (ephemera) as part of its living history. My collection consists of 20,000 historical items related to the history of light, optics, holography and 3D. A sub-collection documents the history of Christian 3D imaging technologies: from stereographs to laser holograms.

I am also very interested in the application of holographic principles to our everyday lives; and in achieving a high degree of wholeness and coherence in ones' mind, body and spirit.

My own personal philosophy / quote is this: "Science is the study of the physical manifestations of God in action". I do not believe that science and God are at odds with each other at all. With science, we gain knowledge and wisdom about God's Creation, and as a result, grow closer in our walk with Him.


Frank DeFreitas Holography



I have been providing laser and hologram presentations, workshops and outreach programs since 1983. I am an elected member of Sigma-Pi-Sigma; the National Physics Honor Society; American Institute of Physics; for my work in laser and holography educational programs. I am the author of Shoebox Holography (Ross Books); and broadcast host of HoloTalk.

I have provided educational programs for The Franklin Institute, Phila; Liberty Science Center, NJ; The Discovery Center of Science and Technology, PA; Lehigh University Physics Dept.; Lehigh-Carbon Community College; Georgian Court University Physics Dept.; The Smithsonian Institute, Wash. D.C. (Hirshhorn Gallery & Ripley Education Center), the Urban Systemic Initiative (NSF); and many elementary, middle and high schools throughout the northeast region -- along with several National Science Foundation-funded programs in other areas of the U.S. I instructed the first-ever online class for holography, through America On Line, in 1995.

If any of this sounds interesting to you, then you are in the right place, and have found the right person. Contact Me.



---
"Where there is no vision, the people perish."
-- Proverbs 29:18

"Science is the study of the physical manifestations of God in action."
-- Frank DeFreitas


Email List
Join the HoloWorld Email list and receive updates on laser and holography activities.


Contact Information
Contact information for email, postal mail, phone and e-zine.


Frank DeFreitas Holography Newsletter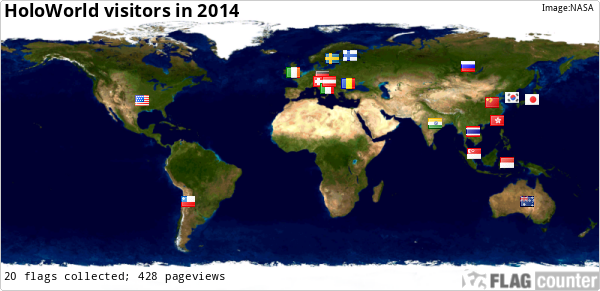 Flag Counter started on January 1, 2014.