---
Frank DeFreitas Holography | Allentown, PA | Phone: 610-434-8236
---
What Are Lasers Used For?



Genesis DNA Hologram Beacon from futuretech on GodTube.


ABOVE: Play Video to see Free-Space Laser Communication Broadcast.



Publishing Notes
Updated 13 March 2014



---
Student Study Guide:
Lasers, Holograms & Photonics
Lasers, Holograms & Photonics
(download)
Here is an 18-page study guide (PDF format) and homework helper that will give students a good foundation with lasers, holograms and the field of optics / photonics. It provides definitions, a timeline of events, biographies of inventors, along with current and future applications. The future is made of LIGHT, and those who are able to understand and work with light will pave the way for the photonics-based, free space laser communication technologies superhighway. You will need the Adobe Acrobat PDF reader for this file.






Hello. My name is Frank DeFreitas and I saw my first laser beam in 1968 (I was in the 8th grade). If you'd like to learn about how lasers are used today, you've come to the right web page! Since there is plenty of information elsewhere on the history of the laser and how they work, I will not duplicate that info. here on this page.

So, let's get right to the l-o-n-g list of what lasers are used for. You have my permission to print out this list for reports and homework.

If you're an educator, you may wish to assign several of the listed uses to students, and have them report on how lasers are used with them.

Note: I'm certain that this list is not complete, and it will always continue to grow. If you know of yet another use of lasers (to add to the list), please contact me and I'll make sure it gets posted in a future update.

What Lasers are Used For:


Repairing detached retinas


Reading product codes on groceries


Recording and playing CDs & DVDs


Cutting fabric for clothes


Drilling holes in metal


Inspecting bottles


Transmitting telephone calls and data


Surveying roads


Sounding the atmosphere


Dazzling concertgoers


Annealing microcircuits


Welding metal


Characterizing surface roughness


Measuring air pollution


Fingerprinting diamonds


Defining the meter


Slowing atomic beams


Printing computer data


Measuring the earth-moon distance


Cutting airplane parts


Transmitting news wirephotos


Aligning precision machinery


Making Holograms


Controlling tunnel machinery


Configuring massive telescopes


Designating military targets


Diagnosing flames


Leveling land


Controlling inventory


Analyzing compounds


Finding impurities


Aligning sawmill cuts


Monitoring polar ice caps


Measuring airplane velocity


Cleaning teeth


Looking for gravitational radiation


Installing acoustical ceilings


Read / write data storage


Identifying molecules


Aiding robotic vision




Inspecting tires
Positioning medical patients
Probing genetic material
Inspecting textiles
Removing birthmarks
Illuminating fluid flow
Communicating underwater
Enlarging color photographs
Teaching optics
Identifying viruses
Creating laser light art
Sensing rotation
Performing microsurgery
Erasing ink
Powering optical computers
Trimming resistors
Altering interconnects
Analyzing materials
Cleaning diamonds
Analyzing auto exhaust
Emerging Technologies
& the Great Commission
My Christian-based Work
with Lasers and Holograms
Holograms are not just about 3D images. When holography was invented, the 3D aspect was a "side-effect", not a main objective. The REAL future of holography will be its many technical applications. Here are a few of my recent projects utilizing lasers and holograms in a slightly different than usual way: making sure that the Gospel is taken far into the future ...


Introduction to Micro Holography
(download)

Here is an introductory 12-page PDF file with photos that gives a bit of history behind holographic microscopy -- and microscopic holography (there IS a difference!). I wrote this for the British online magazine Micscape for September 2013. You will need the Adobe PDF reader in order to read this document.


The Genesis Hologram Project (web page)

Coming soon ... 2014 project ... a 3D laser hologram of human DNA will also transmit a carrier beacon of light containing audible Morse code of the first book of Genesis. (Genesis is the root word of today's scientific gene and genetic). In the beginning, God created the heavens and the earth... Certainly my most conceptually challenging piece to date.


The Hologram Bible (web page)

The Hologram Bible contains all 1,245 individual pages, and 773,746 words of the King James Bible. It is the size of an average snowflake. Its mission is to one day bring Scripture to areas of the world where the Christian Holy Bible is banned. Its size is just the beginning of what makes it different from every other Bible in the world today. Seen by thousands.


World's Smallest Lord's Prayer (web page)

Is this laser hologram the 'Greatest Hologram on Earth'? The width of a single human hair, I propose that this is the world's smallest rendition of the Lord's Prayer in the world today. It contains its own magnification optics encoded into the hologram itself. Reported in many top newspapers across the USA and NBC 10 (Philadelphia) in Sept. 2013, and shown in many science museums and expositions including the Smithsonian and the New York Hall of Science. Seen by tens of thousands.
Orienting crystals
Aligning jigs
Ranging targets
Watching continents drift
Sizing atmospheric dust particles
Cleaning art relics
Tracing air currents
Measuring molecular density
Imploding microfusion pellets
Sensing cloud altitude
Monitoring earthquakes
Gauging fine wines
Testing optical components
Analyzing thin film compositions
Drilling holes in diamond dies
Testing relativity
Separating isotopes
Sensing liquid level
Sensing magnetic fields
Programming read-only memory
Counting blood cells
Guiding missiles
Gauging film thickness
Monitoring crystal growth
Aligning large optics
Shaping jewel bearings
Measuring the speed of light
Securing perimeters




Positioning x-y stages


Computing in parallel


Pumping hard-to-pump lasers


Astonishing moviegoers (special effects)


Creating highly excited atoms


Amplifying images


Cauterizing blood vessels


Diagnosing fusion plasmas


Enhancing chemical reactions


Engraving identification marks


Hardening surfaces


Perforating computer paper


Producing advertisements


If you would like to view lasers and holograms, and learn about their history, you can visit my year round studio exhibition, located in Allentown, PA (near Philly and NYC).

-- Frank DeFreitas



---
"Where there is no vision, the people perish."
-- Proverbs 29:18

"Science is the study of the physical manifestations of God in action."
-- Frank DeFreitas


Frank DeFreitas Holography Newsletter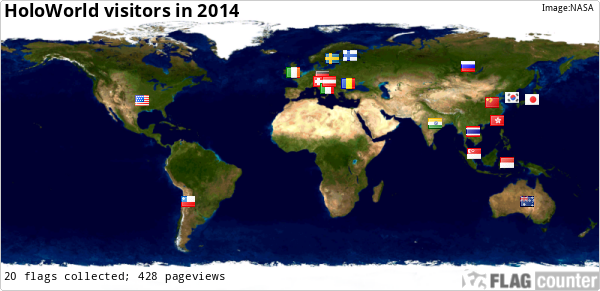 Flag Counter started on January 1, 2014.