---
Frank DeFreitas Holography | Allentown, PA | Phone: 610-770-0341
---



Publishing Notes
Updated 1 MAR 2014


About My Laser and Hologram Programs
For 30 years (since 1983), I have provided world-class holography outreach and workshop programs to tens of thousands of students, educators and adults at: The Franklin Institute, Phila; Liberty Science Center, NJ; The Discovery Center of Science and Technology, PA; Lehigh University Physics Dept.; Lehigh-Carbon Community College; Northampton Community College; Georgian Court University Physics Dept.; The Smithsonian Institution, Wash. D.C. (Hirshhorn Museum & Fick Education Center); the New York Hall of Science; the Urban Systemic Initiative (NSF); home schooling events, birthday parties, private homes; and many elementary, middle and high schools throughout the northeast region -- along with several National Science Foundation-funded programs in other areas of the U.S.


---
RETRO / VINTAGE HOLOGRAPHY



Modern holograms are very easy to make today, and most people do not need to attend a holography class or workshop to learn how. Therefore, this workshop program focuses on classic VINTAGE holography: the way holograms were made in the very early days: gas lasers, gelatin silver salts glass plates, wet processing, hand-made optical components and vibration-isolation tables. This is holography at its DIY best.

In this workshop, we'll work side-by-side, underground, creating two museum / archival quality holograms: a split-beam, Leith-Upatnieks laser transmission and a Denisyuk style white light reflection. We'll utilize the same methods of the earliest laser holography laboratories around the world -- and recreate their attempts at the world's first laser holograms.

Since I am now semi-retired, this retro / vintage holography workshop will be my only offering for the present and future on a limited basis. I can also provide this as an outreach program.

All workshop reservations are based on my availability.
Call 610-770-0341

FEE: $650.00 / day (at my lab)


includes: morning session; lunch; afternoon session; materials; personal resource library CDROM; and follow-up.

HAVE A PRESENTATION
AT YOUR LOCATION




Host a laser and holography presentation at your location. I would love to visit. No group too small! I'll bring a table top exhibit of lasers, holograms and microscopes (for my amazing micro-holograms). Great for schools, clubs, church groups, educational birthday parties, fund raisers, festivals, and home school events. I'm in Allentown, PA, and I can visit areas such as NYC, Philly, Scranton, Lancaster, New Jersey, etc. Call me: Frank DeFreitas / 610-770-0341. I celebrated 30 YEARS of presentations in 2013.

All program reservations are based on my availability.
Call 610-770-0341

FEE: Honorarium or freewill offering.


My first classroom hologram presentation in 1983!


---

"Where there is no vision, the people perish."
-- Proverbs 29:18

"Science is the study of the physical manifestations of God in action."
-- Frank DeFreitas


---
Email List
Join the HoloWorld Email list and receive updates on laser and holography activities.


Contact Information
Contact information for email, postal mail, phone and e-zine.


Frank DeFreitas Holography Newsletter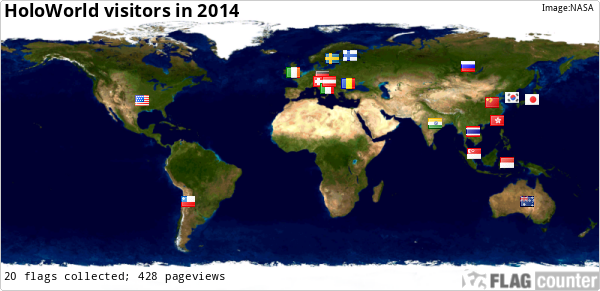 Flag Counter started on January 1, 2014.




---
Table of Contents
---