---
HOLOGRAM PORTRAITS
---


OBJECTIVES
The objectives of this tutorial is to provide information to the amateur/hobbyist holographer for creating their own hologram portraits -- utilizing inexpensive equipment in their home lab, while at the same time, maintaining quality holographic portrait images.

NOTE: In order to proceed with these techniques, I highly recommend that you already have -- or obtain if you do not already have -- experience with both split-beam laser transmission mastering and H1 to H2 reflection copy transfers and associated processing techniques. I have attempted to provide as much information as possible, but at the same time, the notes provided within take for granted that the reader already has this experience. Hence, the bulk of the material covers applying existing skills to create holographic portraits. Still, experience or not, feel free to have a look around. -- Frank DeFreitas


---
WHAT'S NEW?:
---
ENGLEWOOD HIGH SCHOOL PORTRAITS

Englewood High School in Jacksonville Florida has students creating holo portraits in their classroom laser lab. To view CLICK HERE.


---
35mm PHOTOGRAPHY MASTERING:
---


The following sections outline a technique I have already used for over 10 years of doing these "hand-made" hologram portraits in my studio/lab in Allentown, PA. I term this a "traditional" technique because it begins by using 35mm photography to generate the master hologram.




---
DIGITAL CAPTURE & MASTERING: (in progress)
---

You can follow my work, success or failure, along with me as I take the above "traditional" method of 35mm photography and replace it with digital capture and imaging via workstation and LCD panel for electronic output to mastering. Updated as I progress, the end goal is automation of the process. Once again, for the amateur/hobbyist and their home labs.




---
RANDOM THOUGHTS AND NOTES ALONG THE WAY:
---
---
"Where there is no vision, the people perish."
-- Proverbs 29:18

"Science is the study of the physical manifestations of God in action."
-- Frank DeFreitas


Email List
Join the HoloWorld Email list and receive updates on laser and holography activities.


Contact Information
Contact information for email, postal mail, phone and e-zine.


Frank DeFreitas Holography Newsletter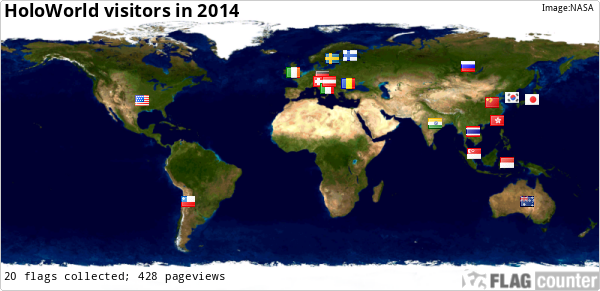 Flag Counter started on January 1, 2014.


---
Table of Contents
---