God Bless Santa Claus

"God bless Father, God bless Mother, God bless Santa Claus."
B. W. Kilburn Stereoview / 1897


3D CHRISTMAS PICTURES
!! Two 3D Galleries !!

SANTA AND FRIENDS GALLERY
CHOOSE 3D (with glasses) or 2D (without glasses)
3D | 2D




THE BIRTH OF JESUS GALLERY:
The Reason for the Season!
CHOOSE 3D (with glasses) or 2D (without glasses)
3D | 2D

*** You Just Passed the Picture Galleries (above)! ***


-- 3D LASER RADAR NOW SHOWS SANTA! --


It has been reported that Santa has made several test runs, and we were able to get a photo of him (above) on our laser holoptoscope. It appears that the sleigh is working, and Rudolph is in the lead position once again. Santa will soon begin to make his way to the very first part of the world that enters Christmas Eve night. Then, he will continue around the world for the rest of the night. You will need red / cyan 3D glasses in order to see Santa in the third dimension on your computer screen. Thank you for viewing our 2012 3D Santa Radar picture! Check with your LOCAL LISTINGS for further Santa Updates. MERRY CHRISTMAS!


---

-- WATCH THE HOLOGRAM BIBLE VIDEO --


The Hologram Bible is a real Bible recorded as a laser HOLOGRAM. The hologram contains microscopic, laser beam images of all 1,245 individual pages, and 773,746 Words of the King James Bible. It is just several millimeters square in size! It is one of the smallest and most technologically advanced Bibles in the world today. If you do not see the video above, here is a direct LINK. **This is not a product for sale. **


---
North Pole Radio shows are now over
Reports will begin again on Thanksgiving Day 2013.
---
Special thanks to the original 1997 radio crew:
Debi DeFreitas, Bud Berge, Bill Freed, Joe Angelitis
Gary Kline, and Renae DeFreitas for their help on
this project for kids of all ages. -- Frank DeFreitas




For something this important,
when dependability is a must,
-- the only choice for 15 YEARS has been:


Allentown, Pennsylvania
"The Road To The Internet Starts Here"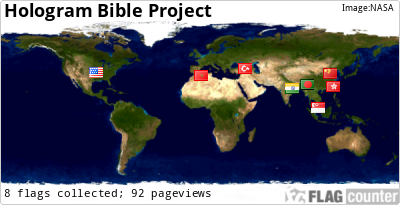 God Bless Santa Claus is a division of the Hologram Bible Project.

Contact Frank & Debi DeFreitas:
Santa Radar & God Bless Santa Claus copyright 1997-2012 Frank & Debi DeFreitas

Email:
holoservices@gmail.com
Phone:
610-770-0341


---
ADDITIONAL LINKS:
About the "God Bless Santa Claus" Web Page
The World's Smallest Nativity
The Hologram Bible Project Web Page